New Modbap Modular Drop - Introducing Transit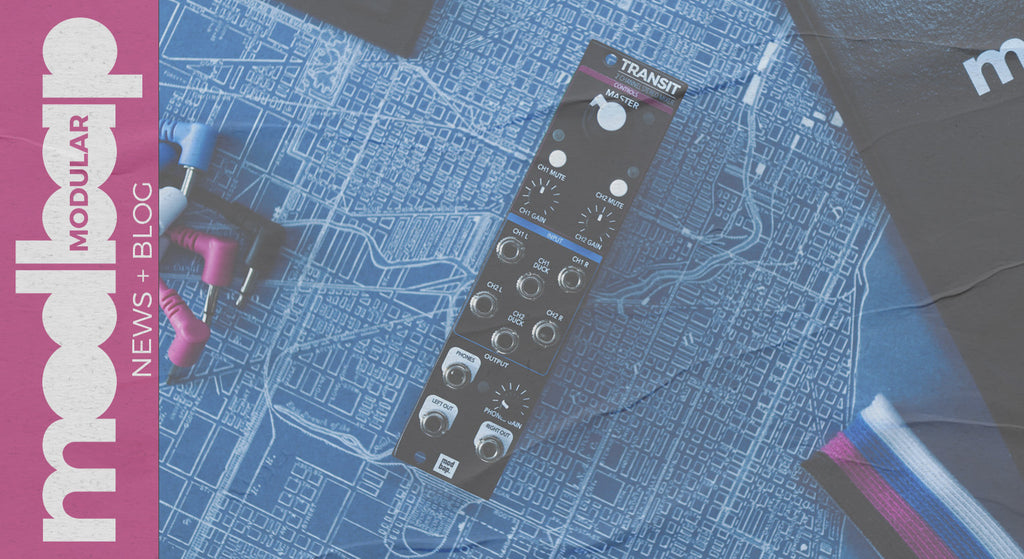 Introducing Transit - practical, simple, performable and fun - 6hp two channel stereo eurorack mixer with mutes, ducking, and an all analog signal path.
Transit boasts a straightforward feature-set that makes for a very useful small format eurorack mixer. Transit has an all analog signal path with dual mono (stereo) inputs on both of its 2 channels. Each channel lane has performative mute buttons with LED indication. Each channel lane has its own ducking input that allows for side-chaining. Each channel lane has its own gain control. Transit also has a dual mono (stereo) output with master level and an independent 3.5mm stereo headphone output with its own level control. 
The idea for Transit initially came about because Per4mer sat perfectly into one of our Modbap20 pods. Per4mer in this configuration lived very comfortably on the desktop amongst all the tabletop synths, drum machines and samplers. But, we found that we wanted a bit more control over the signal into performer and perhaps a headphone jack and we definitely wanted a master volume level control for live sets. It made perfect since to design a module that could fill the open 6hp space next to the Per4mer in the 20hp modbap20 pod. Together, Transit and Per4mer make a perfect pair and compliment to the tabletop synth and beatmaker's desktop.
Transit fits perfect within a few use-cases.
Use Transit as a mixer and/or final output in a small eurorack system.
Use Transit as a sub-mixer in a medium to large eurorack system.
Use several Transit modules in a larger eurorack system to customize your eurorack mixer to your needs and likening.
Use Transit's headphone output to further parallel process your stereo signal.
Use Transit in your travel / performance rack to control levels, duck/side-chain that huge kick drum and perform drops with the channel lane mutes.
So, why the name, "Transit"?
"Well, the two channels are easily viewed as lanes along which the audio signal travels into and out of the module. With that in mind, its fun to romanticize and pay homage to my hometown Chicago where I grew up taking public transportation. The streets of Chicago with its buses, the "L" (short for elevated) trains, and subways has always been inspiring in terms of hiphop and music making. Each of the transit systems connecting and dispersing in different ways all over the city but somehow remaining connected. Transit is an ode to the Chicago transit and streets."
- Corry Banks (Founder of Modbap Modular) 
Transit is available for pre-orders on 05/10/2022. It will begin shipping in June.
Transit Quick Reference Guide - Download
Transit User Manual - Download
Check it out on ModularGrid.