Osiris Review by ProAudio DE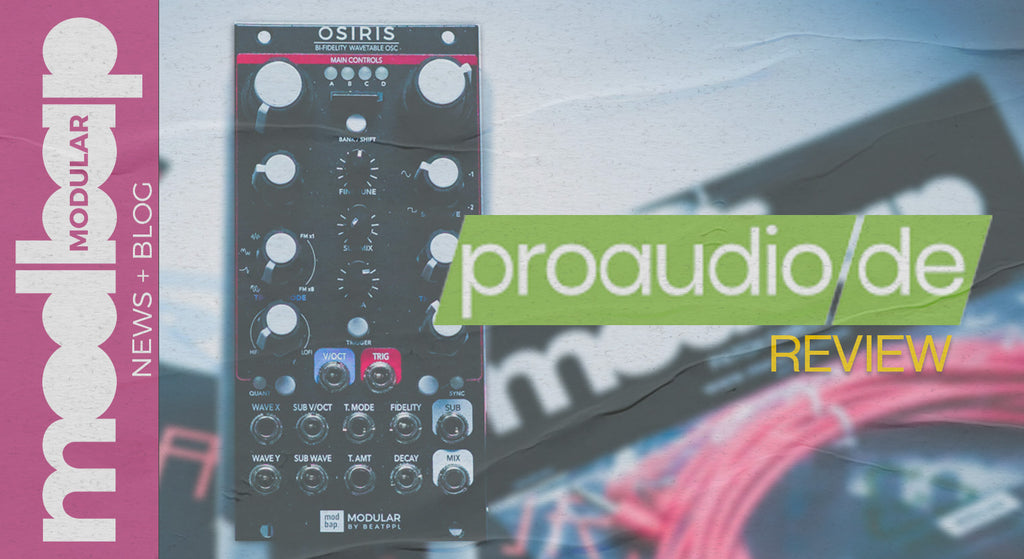 ProAudio.DE got their hands on Osiris and put it to the test. 
Here is a translation of a few bits and pieces from the review...
Modbap is still a very young US manufacturer of Eurorack modules and was founded by Corry Banks in summer 2020. He has set himself the task of closing the gap between hip-hop and modular synthesizers and offering corresponding products via Modbap. The first module was "Per4mer", an effects module especially for live applications. The first module already makes it clear that [Modbap Modular] wants to implement new concepts and ideas. This is also the case with the "Osiris" wavetable oscillator presented in September 2021, which offers many special features in terms of technology, operation and sound.
"Osiris is one of the best wavetable oscillator in the Eurorack market."
Here the conclusion of the proaudio.de Osiris review:
"With Osiris Modbap introducing an amazing wavetable oscillator with a wide range of sound characteristics and flexible as well as simple sound adjustments. I am really impressed of this oscillator especially the extensive modulation possibilities. Osiris is one of the best wavetable oscillator in the Eurorack market. The factory wavetable sets are sounding excellent and the optional available wavpaks and the editor software will improve the Osiris sound capabilities."
- Peter Kaminski – Editor-in-chief
Check out the full review here. (Pro Tip - use google translate to translate to english) https://www.proaudio.de/de/tests/25544-modbap-osiris-eurorack-wavetable-oszillator.html
Cop Osiris now!