Modbap Trinity Annoucement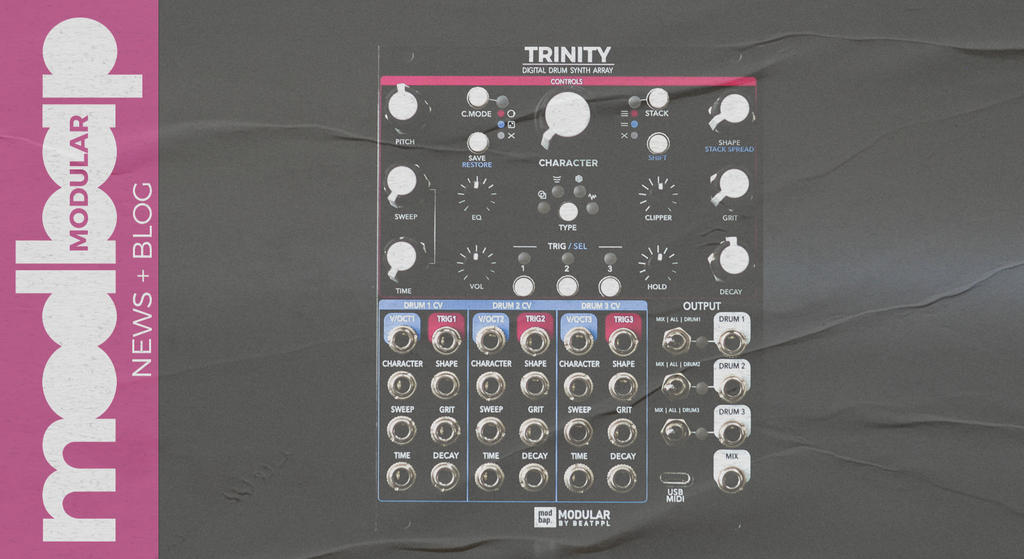 Introducing Modbap Trinity, a 3 channel digital drum synth array in eurorack modular format. 
When Modbap Modular came to market in 2020, the initial plan was to launch with 3 modules. Modbap Per4mer was one of them and an analog drum module was another. Ultimately, the decision was made to launch with one distinctly unique module, Per4mer was that one.
Since 2020, this drum module design and idea has taken many forms and the approach to the design and even the name has changed and morphed into what is finally dropping on 09/09/2022, Trinity.
After working on Osiris, and frankly before Osiris had a chance to hit the market, I started talking about my drum module design with Ess. I suggested that once Osiris was out there in the market place that I'd like to bring him on to work with me on a drum module that I'd been iterating on for some time. After some, contemplating we began developing what I'd now renamed, Trinity. A 3 channel digital drum module with several distinct drum algorithms.
So here we are, many moons later and Trinity is ready for its debut.
Let's take a listen to the Trinity demo track in this soundcloud playlist that allows you to listen to the individual stems of the track's drum bus. The track is further broken down by Trinity's drum algorithms so as to give perspective on the range of sounds of which each algorithm is capable. It's worth noting that DSTL (@danielsteelemusic) created this track using only modbap instruments - Trinity, Osiris and Per4mer.
I'll let the video take it from here.
Trinity is available for pre-order as of 09/09/2022. For more information check out the Trinity Product page. 
Cheers, 
Corry